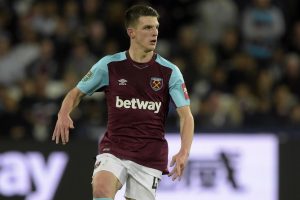 Declan Rice has told the Sun newspaper that fans have got every right to not be happy admitting the team have not been performing well in recent weeks.
Rice told the tabloid "The fans pay their money and they've got every right to not be happy. We haven't been performing in recent weeks. I've had a lot of experiences this season both good and bad and this will make me mentally stronger as well seeing what's going on.
"I think we're going to have a strong end to the season and our squad is too good to be relegated. We have got some tough games coming up but I'm pretty sure the manager and the team can get together and pull through."
Rice admits he hasn't been been offered a new contract as yet saying "I've got a year after this season. There's been no talk yet. With the position we're in I don't think it would be right, we want to stay in the Premier League.
"If we didn't, it would be a disaster. We are a Premier League club, hopefully at end of the season, we'll start talks."