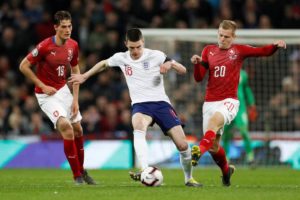 "Declan Rice is a young player who was promising at West Ham, but for this young man this is a different level in terms of subtlety, acceptance of the ball and nuances," Phil Neville said on Monday.
"He still has a lot to learn to become an international top midfielder, but he has three or four years to do that. No other country in the top nations would bring a player so untested into midfield.
"We are still in a situation where, if you play 10, 15, or 20 games for a Premier League team in the top half of the table, you will be catapulted into a situation that is somewhat unfair.
"The deep, embedded problem for English football and England teams is that they had no options to play through midfield.
"Until we have players who can receive the ball on the half-turn, it's so critical.
"Individual errors are the issue, but gluing together the back to the front in midfield is the biggest thing.
"Not just this England team, but England teams for 25, 30 years."