Declan Rice admits that it has been tough to see Andriy Yarmolenko struggling in recent weeks amid Russia's invasion of Ukraine.
Vladimir Putin's forces are now waging a full-scale war against their European neighbours and, as a result, Yarmo has been handed some time off from West Ham duties.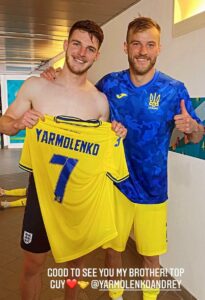 He was not in the squad to face Wolves as a result, although the Hammers managed to record a 1-0 win without his presence.
Before the game, the players warmed up in shirts bearing Yarmolenko's name before Declan carried his shirt onto the pitch for the pre-game preparations.
Declan admits that it is vital that the club continue to show solidarity with the winger, who has family in the country.
Indeed, a message was displayed on the big screen at the stadium before kick off, sending prayers towards everyone affected by the war in Ukraine.
Speaking to BBC Sport after the game, Declan said: "It is so important, for me and for the team, the club and everyone to support Yarmo – the day it started we saw him at the training ground and he was in bits, we are there for him and the people of Ukraine.
"We are all with Yarma and the tap on the shirt gave it good luck. He has some family in Ukraine at the minute so is going through some tough times, he sent us a message in the group chat before the game saying 'good luck boys'."