Declan Rice may have broken Kidderminster hearts at the weekend but he absolutely revelled in the victory after the game.
The England international scored the equalising goal in the first minute of injury time, and Jarrod Bowen then went on to score the winner in the final minute of extra time.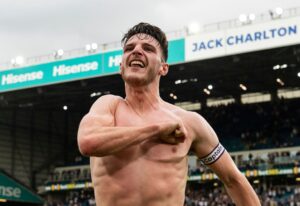 It was a particularly cruel way for a non-league side to lose to a top-flight team, but Declan made sure that Kiddie were aware of just how much he respected their efforts.
The Harriers boss, Russell Penn, went on talkSPORT on Monday morning and revealed that the midfielder went into the home dressing room after the game to hand out a bunch of shirts, and even jumped in the showers with the Kidderminster boys!
Speaking on the radio station, the Kidderminster boss said: "To lose it with ten seconds to go in extra-time was heartbreaking, but I've got to say this, West Ham were absolutely superb on the day.
"Declan Rice came into the changing room after the game, gave a load of shirts out and even jumped in the same showers as our lads.
"As you can imagine, it was surreal!
"But he was the game-changer, he was superb. He was excellent, there's no doubt he's going to be absolutely massive in the future."
Penn also had a beer with David Moyes after the game, and he revealed that the Irons boss was absolutely full of praise for the Kiddie performance.
He added: "Immense pride at the time and I thought we had West Ham rattled. We spoke to David Moyes in the changing room after the game and said he couldn't see them scoring and had to bring on the big guns to make that happen.
"That's a big compliment to us. We had the pitch, the hostility around the place on our side. We took the game to them, which is what I wanted to do.