Declan Rice must be 'selfish' as he chooses his international future, according to Mark Noble!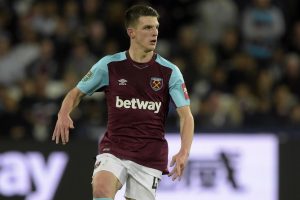 Rice is at the centre of a tug-of-war between the Republic of Ireland and England, having played in three friendlies for the former.
Noble was in the same position as a youngster and has used his Evening Standard column to give the young defender some much-needed advice.
"Declan Rice has been in the news this week after asking for time while he decides on his international allegiances, either to stay with the Republic of Ireland or make himself available to England.
"Declan is a young lad. Hopefully, he has 15 years playing ahead of him. He has to make his own mind up, knowing that the decision he makes could impact his career massively. He will also understand that, if he has a dip in form for whatever reason, the Irish FA won't have any hesitation in leaving him out.
"You have to look after yourself and be selfish in a way.
"I had a similar dilemma a couple of seasons back, although the circumstances were a bit different. I had represented England from schoolboy level right up to Under-21s and my dream had always been to play for my country. My family are from Ireland, though, and their FA contacted me to see if I was interested.
"My thinking, though, was that I had never dreamt of playing for the Republic of Ireland — and I don't mean that at all disrespectfully. I had played for England through all the age groups. I felt that, if I went to play for Ireland and there was a kid out there whose dream was to play for that country and I had taken his spot, then I didn't think that would have been right. That's just the way I am."