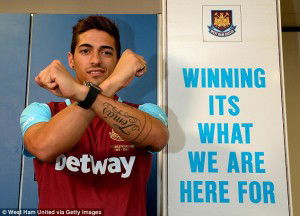 In slightly predictable recycled news the Sun newspaper has claimed a World exclusive that West Ham star Manuel Lanzini lined up as a replacement for Philippe Coutinho.
The barmy article says Kop boss Jurgen Klopp is refusing to rule out Coutinho's departure to Barcelona this winter and is making plans to replace him should he leave this January. He will reportedly get £115million for Coutinho and West Ham playmaker Lanzini is said to be high on his hit list claims the tabloid. The Sun says Argentina international market value will smash past the £40million barrier on current prices.
Klopp is offering no such assurances over Coutinho staying at the club, even if the club have no need to sell to balance the books following the arrival of Virgil van Dijk for £75million. Along with the £385,000-a-week wages for Coutinho, his agent is due to receive £9million if a transfer fee of £88.5million is not exceeded for any transfer.