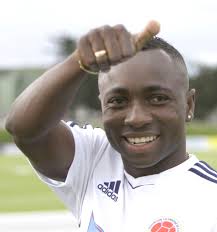 Guy Demel believes Hammers fans will be seeing Colombian left back Pablo Armero sometime very soon!
Demel has been keeping a very close on eye on the player during training ground sessions and clearly loves what he's seeing.
The left-back, who can also play as a winger was an unused sub in their 2-0 wins over Norwich and Aston Villa.
Demel, however, claims the defender is looking sharp in training and expects the 27-year-old to breakthrough and shine in the team.
He said: ". "You can see he looks really good on the ball. He's a good left-footer and a good lad.
"On the pitch he's going to be great, he just needs to get used to the way we play and to the team.
"I think the fans are going to see him some time soon."