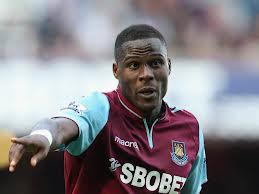 Guy Demel turned out at Everton despite a running a fever, suffering  swollen glands and taking anti-biotics.
He did it because he says: "There  is still work to be done, it's the Premier League so every game is going to be tough and we have to fight in every game."
But he added: "We're still looking up rather than down, we're positive. We knew that when we were down, we could get ourselves out of the situation – we did that and now we have to make sure we stay away from there.
"It's been good to have a settled back line, and we've been lucky in the last few games that everyone is fit. It's easier when you play every week with the same defence, but we have a great squad.
Demel's Saturday was hard after he returned to training the day before the match following a bout of tonsilitis.
He said:  " On Monday the doc came because I had a high temperature and my glands were swollen. I stayed at home for a couple of days, came back on Thursday and joined in on Friday.
"It's not easy when you're taking antibiotics, but no excuses, I tried my best on the pitch. I was kind of disappointed because I had to leave my teammates on the pitch."