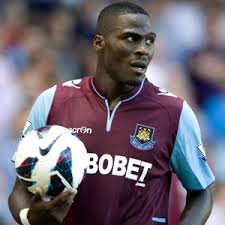 Guy Demel has spoken about the horror injury at Cardiff City that left him with no memory of events leading up to the clash which hospitlised him.
There had been hopes the defender would be ready for the clash against Newcastle United but the club's medical staff instead decided to remain ultra careful.
Speaking to the official West Ham site Demel admitted he could not remember anything of West Ham's victory.
He said: "I don't remember anything about it. It was hard to look at the video, but I saw some pictures so I know what happened, but I cannot remember anything for 48 hours before the incident happened. I don't remember travelling to Cardiff or the match or anything.
"The first thing I can remember is waking up in hospital and they asked me where I was and I didn't know. I knew I was in hospital but I thought I was in London because my last memory was of being at home.
" I was very confused for a couple of days after it happened but now I'm feeling better. It is really hard when you cannot remember things, even if it was only for two days. "
He added: " "The doctor said to me that I had suffered a severe concussion and it was a serious one because I had been unconscious for a lot of minutes. They also had to put a tube in my mouth because my blood was going backwards down my throat. They said that when I woke up, I couldn't speak for an hour and a half and then I slowly started to come back around.
"Actually, I would like to thank the medical team because their reaction was really good, really quick and they made the right decisions. I would also like to thank God because you never know what can happen in your life and I am happy to be here. Now, I am getting right.
"The Club has been really good. They have not put any pressure on me and I have started doing things at my own pace, like some running and some core work. Day after day, we watching how my body reacts, so we are trying to make sure we don't take it forward too fast before I start training again."