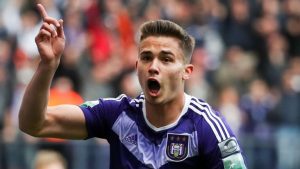 Leander Dendoncker insists that West Ham would have been a great move for him to advance his career.
The Belgium international is known to have been a target for the Hammers with conflicting reports of David Moyes dithering and lack of a suitable bid ensuring it didn't happen.
The 22-year-old, has made it clear he wants a move to the Premier League adding that he holds ambitions of being picked in the Belgium World Cup squad this summer.
He said: "I long for higher. [Should] I should not let my career depend on [featuring at] a World Cup?"
Dendoncker and Youri Tielemans were a pivotal pair in Anderlecht's League title win last season and the player added: "The disappointment was great – I could barely overcome it.
"I noticed that after the departure of Youri they did not want to get rid of the whole midfield.
"I was on the phone every day with my agent. I was told, 'Be patient, it will come around, maybe at the very end.'
"I was constantly working on that transfer, instead of just focusing on the training. I was wrong, I realise that. But it was the first time I came into such a situation, I just did not know how to deal with it."
"Anderlecht was not the problem, it's just that after the title [last season] I had the desire to take the next step in my career," Dendoncker added,