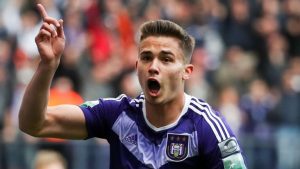 Although a club insider says West Ham were still trying to bring Leander Dendoncker this evening they admitted the player remains in Belgium and has yet to undergo any kind of medical.
Stories this morning suggested that Anderlecht had immediately rejected a bid for around 20 million euros but our source says negotiations have been carrying on all day. However, with the player still in Belgium and no medical scheduled time has effectively run out even if Anderlecht had a change of heart and accepted West Ham's offer.
Anderlecht chief executive Herman van Holsbeeck previously said: "Dendoncker is the centrepiece of our defence.  If we let him leave it has to be for a lot of money. We also have to find a replacement for him, even if it is a loan for six months.
"A deal can be done if the interested club puts 25 or 30million euros (£22m-26.5m) on the table for him. I've experienced plenty of difficult transfer windows, but this one is the trickiest of all."