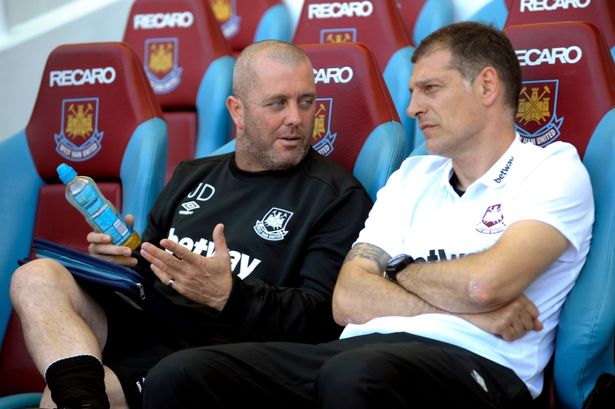 Despairing Hammers boss Slaven Bilic and Julian Dicks are caught up in some Hammers One Direction madness.
The boss and Dickie are know heavy metal freaks but apparently – if we believe The Sun – the new dressing room anthem at Upton Park in the teeny bop anthem History.
The Terminator said: "We trained at Upton Park last Friday before the Liverpool game and Mark Noble played it in the dressing room afterwards.
"At first I thought 'what is this load of s***' but now I can't get the bloody tune out of my head. The lads played it after we won too and even I'm singing along to it now.
"I'm not sure Slaven's taken with it. I like everything. I'm a heavy metal fan but I also love Elvis, 60s music, anything, although I never thought the day would come when I'd say I liked One Direction. To be honest, any kind of music is good for lifting the spirits.
"Team spirit is so important. When things are going well it manages itself."
West Ham are only going in One Direction as they set off on the road to Wembley at home to Wolves today.
Dicks' idols Iron Maiden are playing Donington in June when the former left-back hopes to be celebrating winning the FA Cup in the mosh pit.