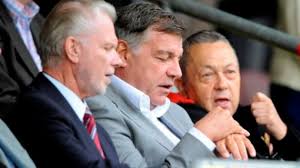 David Gold has made it clear the Hammers will go into next season with Sam Allardyce at the helm.
Although the manager will always split opinions among the traditionalists and those with a more pragmatic view of life, a simple question sums up the thinking: "Why would you get rid of a manager who has kept you safe?"
And the co chairman told Claretandhugh exclusively: "I know Sam well. I see him every day and what I see is a man doing his job – this  season sometimes in quite awful circumstances and doing it really well.
"He was criticized for cupping his ear to the fans after the Hull match but there was an irony and a touch of humour in that.  It was all done with a very light touch.
"I think he's done a very good job in very tough circumstances and there is no reason at all why he shouldn't continue.
"I've said before that he never had any doubts about survival even when things were at their bleakest, so he deserves our backing into next year.
"But as has always been the case everything will the subject of yearly reviews."
The high cost of sacking without good reason seems absurd given all of that for were the board to submit to the wishes of some , it would cost around £5 million to terminate the manager's contract and those of his backroom staff.
That's not going to happen and we go into the end of the season and summer with Big Sam as manager and likely to remain so into the forseeable future.