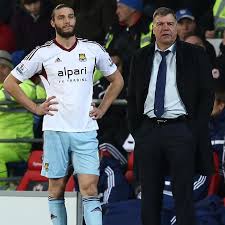 David Gold has heaved a huge sign of relief as Andy Carroll has the surgical boot removed from his injured ankle.
The club's  co-chairman has been keeping a very keen eye on Carroll's progress and believes the removal of theboot is always a huge breakthrough moment with any player.
He said: "With that on your foot a psychology sets in and it's really not a great place to be but now he can move on – the future immediately looks brighter.
"Andy has been incredibly unfiotunate and every development where he can look forward again is a great thing.
" I believe once he returns we will have a tremendous strike force available to us as Sakho looks good in training and Enner Valencia is electric with incredible pace.
"I am excited and pleased for Andy and everybody here is looking forward."