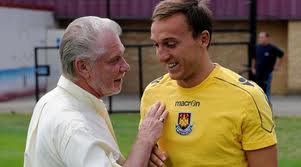 David Gold would sooner be playing Chelsea, Manchester City or Arsenal than Southampton this evening!
For despite the south coast side rising into third place in the Premier League Gold believes expectations will be lower than they should be.
Gold admires their progress but no more than our own and said: "I go everywhere with confidence – at our best we are the equal of anybody in this league.
"Unfortuntely for us I believe Saints are still considered on a past reputation but they are clearly far better than that.
"I think the expectancy levels aren't as high as they would be at say Arsenal, Chelsea and Manchester City for example. In fact they should be.
"It's a very tough game and obviously we will have to be at our best and give them the respect and credit they are due."