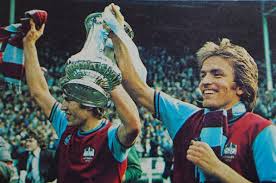 Ask David Gold to describe the dressing room spirit at Upton Park and he will point to a picture of Mark Noble out of his mind with delight at Burnley on Saturday!
He posted it on Twitter and explained: "It tells you better than any words of mine what the lads are feeling at the moment – elation, joy overwhelming confidence and more besides.
It's the kind of spirit that can carry us to an FA Cup Final Day out and I really am looking forward to a big run in that competition."
That is the next big ambition and the co chairman but is convinced it's achievable and that it should run in harness with a major bid to make the last Boleyn season a European season.
That has been David Sullivan's stated aim for some time but the FA Cup campaign offers a real opportunity of a major trophy for the first time in a lot of years."
Generally speaking DG  is a cautious man but really does believe that an assault on Wembley is realistic.
He said:  "The big clubs are always going to pitch hard for Europe and we shouldn't rule that out either but the FA Cup gives us a real chance and it's something I've been wanting for several years.
"I think we can give it a real go this season."