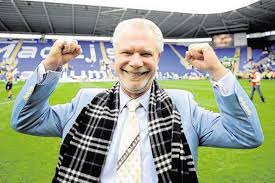 ClaretandHugh was delighted to learn this afternoon that DG is very much on the mend after a suffering from a nasty midwinter bug.
After a couple of absences from the director's box over recent weeks we caught up with our co-chairman a few minutes ago and gave him "get well soon" messages from the site and all our followers.
And the boss was in great form saying: "Yes, I've been a little poorly with a midwinter bug but I spoke to my consultant this morning and all things being equal I'll be back in the box for Swansea. I'll try to remember to give you all a wave.
He caught the match last night at home and after those last 2o minutes decided that he had better have his blood pressure checked at the same time on his morning appointment with the doc.
And he said: "Amazingly he told me it was normal. Incredible because like most I really struggled through that West Brom blitz."