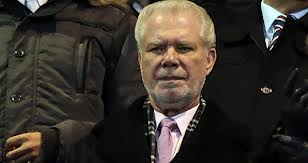 David Gold wants refs to make it 100 per cent clear to captains, penalty takers and keepers that a last second penalty will LITERALLY be the final kick of the match!
The co chairman is still barely over the  Spurs equaliser which was converted by Harry Keane off a rebound following a great save by Adrian last Sunday.
And speaking exclusively to ClaretandHugh he said: "Whilst we can't appeal the goal, lessons have to be learned and I believe there is one big thing to be done.
"Referees get all sorts of training and I think that if ever such a situation arises again the official should go to all the parties involved – keeper, penalty taker and captain – making it clear that the kick is the very last thing that will happen in the game.
If the ball hits the back of the net then ok it's a goal but nothing other than that should be allowable.
"It was a dreadful situation for us. I'm barely over it. Six and a half minutes had been played at the time and you have to think there was just the time for the spot kick and nothing else.
"It mis something that needs to be addressed and I believe my suggestion can help."