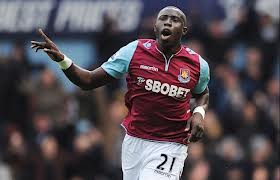 Mo Diame admitted today he was waiting for the whistle in the build-up to Mark Noble's penalty against Hull City last night.
Sam Allardyce has often complained about getting on the wrong end of officials' decisions this season.
But according to the midfielder the Hammers got a serious break for the goal that set them on the road to a desperately needed victory.
He said: 
 "I think just before the challenge from the goalkeeper, I touched the ball with my arm.
I was waiting for the ref to blow up, but sometimes it is good to have the referee with us.
"After the handball I could curl the ball in and it was a foul I think, so it was good for us."
"I think in the last game we didn't have the referee with us, but it happened for us in this game and that is good to get the penalty.
"Mark Noble is always good for these penalties. He always waits until the goalkeeper decided which way to go and then he puts it to the other side."