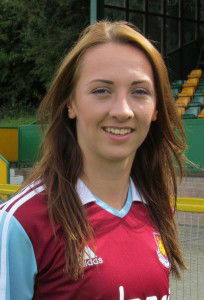 New West Ham Ladies manager Julian Dicks got his ladies off to a perfect start thanks to a late goal in injury time by Kelley Blanchflower.
West Ham Ladies started their season kicking off at 2pn this afternoon in West Drayton, Middlesex against QPR Ladies.
The starting line up consisted of Runnacles, King, Barling, Baxter, Revell, Morgan, McCrea,  Kinsman, Blanchflower, Sherwood and captain Stacey Little. Substitutes: Donohoe, Powles, Mellors, Lipley-Hinton, Bowers.
The Ladies went one down after 24 minutes against the run of play as Kasha Petit scored for QPR Ladies. It took 61 minutes for the West Ham Ladies to break through and equalise through a Lindsey Morgan looping header. The Hammers Ladies left until 92nd minute to win it late in injury time 2-1 through a Kelley Blanchflower goal.
The Ladies next game is against Keynsham Town in the League Cup next Sunday 2pm followed by an evening match against Spurs Ladies on Thursday 4th September Kick Off 7.45pm