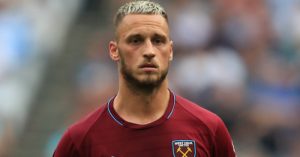 Marko Arnautovic was left on the bench by Manuel Pellegrini until the 68th minute and when he came on it failed to make a difference.
If I was being kind I would say he didn't receive any service to make a difference however his body language still suggests to me he has the hump about being refused his big-money move to China. This is not the same Arnautovic we feel in love with and terrorised the opposition.
Pellegrini had admitted on Thursday that Arnie was fit and had trained all week but decided to start with Hernandez instead, was that a message to the Austrian to remind him who is in charge or was there still doubt on his frame of mind?
His appearance against Wolves in the 3-0 defeat for 77 minutes before he became injured was a similar performance and his body language didn't say he was 100% committed to the club and the team.
Did the club make a mistake with Arnautovic in not accepting a £35m offer from China?  Only time will tell whether he snaps out of this lull and starts scoring goals again or whether we will endure lacklustre performances for the remainder of the season.