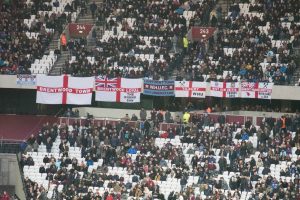 London Stadium owners are set to transform the upper tier over the summer by installing a new continuous LED banner advertising screen across the gaps between the lower and upper tiers including the concrete areas next to the giant screens where supporters flags hang including the huge Claret and Hugh flag.
Karren Brady bought a new London Stadium flag policy in after an initial meeting with bloggers including Claret and Hugh to encourage as many supporters flags as possible to fill up the stadium.
At a recent bloggers meeting with Mrs Brady, she confirmed her commitment to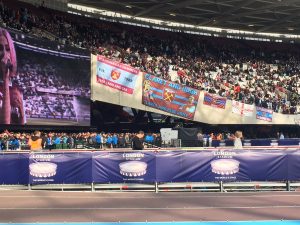 keeping the flags and said the club was exploring where the flags will be relocated for next season after the LED screens are installed and a new naming rights partner.
Options could be limited with the seat coverings over the 6,000 unused seats the most obvious area but that would reduce their visual impact as it would mean they would be tucked away at the back of the stadium.
Another option could be to lay them out on the new Claret carpet which will surround the pitch next season but that may bring heath and safety challenges.
Operators London Stadium 185 say they are open to the idea of displaying digital flags on the new advertising LED ribbon in the middle tier. Manchester City installed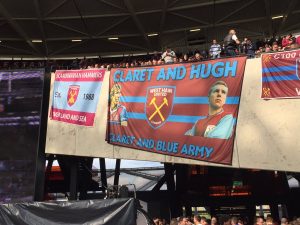 the same technology at the Etihad stadium in 2014 banning supporters flags in the middle tier, as a compromise the club run a competition for supporters to design digital flags to be displayed along the length of the LED advertising banner. Whether West Ham will follow suit remains unclear but Claret and Hugh have been assured that all options will be considered to improve the West Ham look and feel of the London Stadium. A senior club source told us "We do NOT want to lose the flags that's for sure."
Below is how the digital flags look in action at the Etihad  Stadium