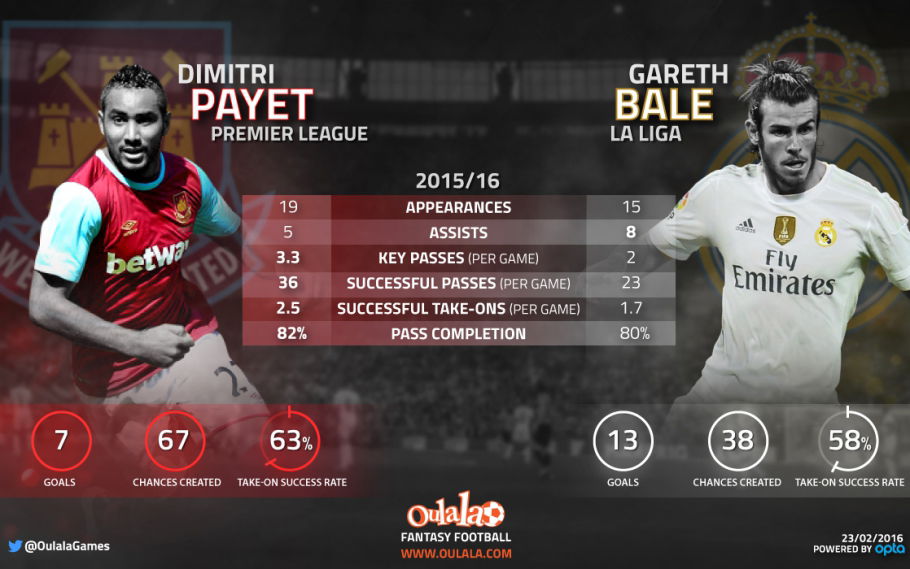 Oulala.com  have compared one the world's most expensive signings to the bargain buy of Dimitri Payet to see how the two stack up against each other.
Payet cost West Ham £10.7 million to become the signing of the season. In just 19 league appearances this season, the French international has created an impressive 67 chances. The majority of those chances have come in the form of key passes averaging 3.3 per game.
Bale cost Real Madrid a world record fee of £86 million in 2013. The stats show that this season he has created 38 chances in 15 league games. Although Bale has played four games less, that is still 29 fewer opportunities than Payet. Bale has averaged just 1.7 key passes per game. However, the Welshman has registered more assists than Payet (8 to 5).
Payet has a far better ratio of successful passes made per game than Bale (36 to 23). He also just about edges Bale in terms of pass completion rate (82 per cent to 80 per cent).
The stats highlight that Payet holds a better rate of successful take-ons per game (2.5 to 1.7). At approximately 63 per cent, the stats also indicate that the 28-year-old Frenchman has also won a far greater percentage of his take-ons.