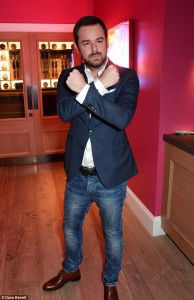 The Daily Mail have published a story today about East Enders actor and Hammers fan Danny Dye.
But amusingly under one caption the 'paper claims Danny is showing support for Simon Cowell and the X Factor programme as Danny crosses his hands.
Err, that's probably very unlikely and in fact Danny was showing his support for his beloved Irons!
Earlier this year Danny who was born in Canning Town recorded an interview with Sky Sports entitled 'Me and my Club' as he recounts the highs and lows of being a Hammer.