Brazil's national team doctor has visited the capital to run a check on the fitness of Lucas Paqueta, according to a new report.
ESPN, via Sport Witness, reports that the concerned Selecao sent their doctor to London to check in with Paqueta and make sure he's doing okay in his recovery after a shoulder injury was sustained a few weeks ago.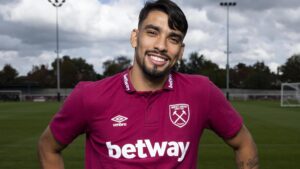 However, while he has not been seen since the draw with Southampton, it appears that his recovery is well on track and that he is in no danger of missing the upcoming World Cup.
That will be music to the ears of Irons fans too, as he is likely to be back before the tournament; the Irons have two more Premier League games, against Crystal Palace and Leicester, before the tournament kicks off.
West Ham also face Blackburn in the EFL Cup next week, so that could well be Paqueta's return date.