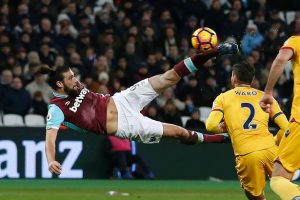 Former West Ham manager Alan Pardew says if he was West Ham manager he wouldn't allow Andy Carroll to train.
"If I was West Ham manager, I wouldn't let him train," said Pardew on Sky Sports Debate programme . "Monday, Tuesday, Wednesday, I just wouldn't let him, and say he can do a little bit of work on Thursday, Friday he can play in a seven-a-side, and then play on Saturday."
"Once he's fit and he's playing, he doesn't need a lot of work. The way he plays, he's kind of in the game and out of the game, so he can rest for periods, and let him rest; because when he's on the pitch, what he actually does physically is a lot of big, physical stuff, not running around, closing people down, so he doesn't need to have ten miles in him. That boy is a fantastic footballer, but Slaven does have to be very, very clever with him to try and work out his schedule so that he doesn't overcook him in training, because a lot of his injuries, he picks up in training," he added.