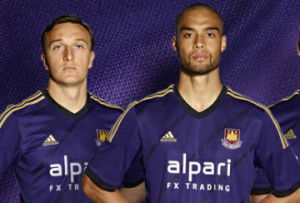 Big doubts over whether the Irons can use their third kit for the Third Round FA Cup tie at Everton are arising.
There's now heavy speculation that the purple strip is too close to Everton's home blue to be used, but the FA will make the final decision.
Earlier in the week the club heavily marketed the third shirt claiming it would be worn for FA Cup matches.
In small lettering on the emailed advert it was stated the third kit would be worn for all home and away FA Cup matches where there is no kit clash.
Whether we get to see it now may depend entirely on the outcome of the Goodison Park match.
The club claim they have sold more than 2,000 of the 4,000 third kits available.