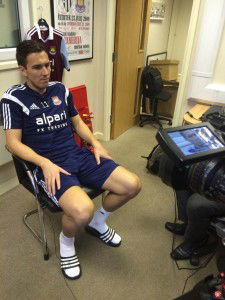 Stewart Downing was today grilled by Hammers fans on twitter today when taking part in a question and answer session on @WHUFC_OFFICIAL.
And he reckons, the |Irons can reach Europe this season.
Among the questions he answered were:
@whufc_official What do you prefer, playing as a winger or behind the strikers? 
SD: At the minute, the way the team's playing, I prefer playing behind the strikers.
@whufc_official Do you have any pre-match rituals?
SD: Nothing specific,not really before a game.
@whufc_official Who is your best mate in the West Ham squad?
SD: "I'm probably closest to Ginge as I knew him at Villa. Probably him.
@whufc_official If you were to have one superpower what would it be and why?
SD: One superpower? Invisibility I reckon!
@whufc_official What was your favourite game to be played in whilst playing for West Ham United?
SD: Liverpool at home. The atmosphere was the best since I've been here and the best performance too.
@whufc_official Many measure success by using stats re goals/assists – Do you concern yourself with that sort of thing?
SD: No, not really. You can set loads of chances up but if they don;t go in the net you don't get the assist! Obviously I'd like to score more goals, but as long as I'm playing well and the team is I don't think about it.
@whufc_official how much are you looking forward to playing at the Olympic stadium?
SD: Very much so. It's a big part of why I came here and if we keep going the way we're going we'll head there in a good position.
@whufc_official if you hadn't made it as a footballer what would your second career choice be?
SD: Probably something along the lines of coaching. I'd stay in football if I could.
@whufc_official who is the best full back you've come up against?
SD: In the Premier League I'd say Gary Neville. In Europe I'd go Dani Alves. He was at Seville when I was at Middlesbrough. He was really good.
@whufc_official where do you think we will finish this season?
SD: Realistically, I don't see why we can't aim for Europe if we carry on like how we've started.
@whufc_official Which person has been the biggest influence on your career ?
SD: Probably my dad. He brought me up, took me everywhere and was always behind me for support.
@whufc_official What do you make of Alex Song's fashion?
SD: Questionable! He pulls it off quite well though It's not something I'd wear but he looks quite good in it.
@whufc_official  Do you feel you deserved an England call up?
SD: It it went on performance I think there's a few people at the club who think they deserve a chance. Realistically I'm not sure I'll get picked but if I am I'd love to play.
@whufc_official How does it feel the manager describing you as the best midfielder in the league currently? 
SD: It's a great compliment, Maybe exaggerated a little! But as a player it gives you great confidence and I'm really enjoying playing right now.
@whufc_official What has brought on the big turnaround in recent fortunes…new formations and/or new signings/Teddy Sherringham
SD: The formation is a big thing, because of the personnel we've brought it, so probably a combination of both The new players have settled quickly and the formation is working well