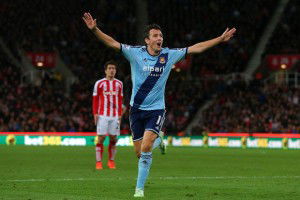 I enjoyed the opening comment in one of the nationals today declaring boldly: 'Stewart Downing understands more than most the trouble with Sunderland'
Given that he failed to realise that Adan Johnson – the guy he named as their most important player – was back in training earlier in the week, that may be a slightly over-bold statement!
Downing in singing the winger's praises, clearly believed he wouldn't be a part of things at the Boleyn tomorrow evening given his bail conidtions on suspicion of sexual activity with a 15 year old girl.
But that aside, the winger – who has friends and former England team-mates with tomorrow's visitors and where he was on loan as a kid – obviously believes he has some insights into thing Black Cats.
Speaking to the new and improved club site at www.whufc.com and quoted in the Mirror he says: "I know quite a few of the people at Sunderland. Guys like Lee Cattermole and Wes Brown. They've got a decent squad. It's a massive club.
"Its not really gone for them but then that was us last year – similar situation, injuries and suspensions. They have to roll their sleeves up and try to get out of it.
"But we've got to try and take advantage while their confidence is low. A lot of teams were probably looking at us last season in the same way, saying: 'West Ham haven't got a striker. Let's go for it.'
"Our aim is to finish in the European places so we need a strong finish. It will be difficult but there are still a lot of points to play for."
Downing has also responded to the speculation over Sam Akllardyce's future saying: "He has stabilised the club. He has made the squad better. Last summer was his best transfer window of getting players in to take us to the next level.
"I don't think he gets the credit he deserves but if you look at his managerial record he has always had stability and always gets the best out of his players. For him and for us the best thing we can do is finish in a European spot.
"And I'd say that we were small details away from being a European team. If we didn't so it this season it would be disappointing after being in fourth or fifth for such a long, long time. But we can do it."
He admits to being jealous that Southampton – despite having to rebuild their team last summer – have maintained their charge for European football while the Hammers are battling to keep theirs alive.
He said: "But credit to Southampton. That is where they have capitalised. They have scored late goals, they've seen out games because they have defended very well – and they were tipped to be relegated at the start of the season.
"So its phenomenal where they are finishing but there is a hint of jealousy because we should be where they are. We can't let all of our hard work go to waste and fade away.
"We need to finish strongly."