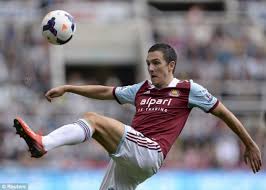 Stewart Downing has revealed how his relationship with Liverpool boss Brendan Rodgers broke down and his ugly exit from Liverpool.
And in a frank interview in the Daily Telegraph he says: "I never thought of packing football in but I didn't like the way I was treated."
He has harsh words for Rodgers declaring: ""He put that headline out, saying I needed to 'fight' more. It hurt. If you ask all the managers I've played for, I always try, always train hard.
"If Brendan had a problem with me, if he'd pulled me and told me, then no problem. He didn't. It hurt the way he did it.
"I went to see him, November time, and he just said to me: 'This isn't going to happen for you here, basically find a new club.'
"Then a couple of a weeks later he came to me with the idea of playing left-back, and he played me there a few games. I've never been a left-back. I was 28. I've never wanted to play left-back.
"Even when I was back in the team, and playing really good football, I knew the writing was on the wall. The club told my agent at the last game of the season: 'Have you heard? There's an offer from West Ham.'
"I asked Brendan and he said he didn't know anything about it. He said: 'I can't promise you will play every game but I don't want to lose you.'
"I was happy at Liverpool, I wanted to stay, I had two years left on my contract. It's Liverpool, a big club. But I was hit with this bombshell. After that conversation I knew I had to move. I knew he wouldn't play me.
"It was a difficult season. I was sat training, not doing anything. I couldn't just 'take the money'. No. That's not me. I look forward to playing. I could have stayed at Villa. They offered me a really good contract to stay but this is Liverpool, and I thought we could do really well.
"So last week was sweet. We were really confident of beating them, with the problems they've had of late. I thought we could hurt them. Brendan has bought a helluva lot of players but I still look and think I could get in that team. It made me a stronger person."
Downing is now seriously enjoying his new West Ham life where he has been deployed in central midfield in recent weeks.
"Sam always plays me, always encourages me, and always wanted to get me more involved," he said.
"He mentioned it to me last season, saying I could play in a three. With the injuries last year, he couldn't put me in there. Last year I was feeling – I wouldn't say isolated – but it was difficult for me playing without a striker with Andy [Carroll] injured.
"Out wide, I sometimes might not be seen for 10-15 minutes. This season he has options. So he went for it. It was a last-minute thing on the Sunday before the Hull game. He said: 'I'm going to play you inside one.' 'Right, no problem.' It went well against Hull and even better against Liverpool."