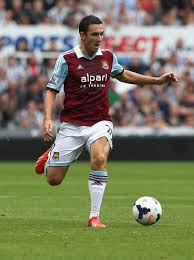 Stewart Downing is looking forward to a merseyside return on Saturday and claims that apart from things coming together for the team, they have also "had a bit of luck."
But he warned: ""We're not out of the woods yet because we've still got games to win."
He added: It's very enjoyable at the Club at the moment. We've had a bit of luck along the way but I think we were due some.
"I'm happy personally because things are going quite well. The manager is obviously happy because the team is winning. We've been a bit lucky at times, but the last couple of weeks it's all come together."
Everton will be hoping the likely appearance of striker Romelu Lukaku will help a cause which has seen them lose three of their last four Premier League matches – all away from home.
But Downing said: "Everton is always a difficult place to go, even when they're not playing that well. The crowd are really on top of you,
"We should have got something from the game down here. They were two great free-kicks to be fair to Leighton Baines, but I think we can go there and get a result."
Downing will likely come into direct conflict with England left-back Baines, who is commonly considered to be the best left-back in the country at present, and in-form Republic of Ireland right-back Seamus Coleman.
"I always relish playing against the best players and I think Bainesy has probably gone up a level the last couple of years, even though he was always a good player. In terms of creating and scoring goals, I think he has been one of the top players, so it'll be a good test.
"Let's see if we can make him defend a bit more than he would like and hopefully we can put them on the back foot.
"I think Coleman has probably been one of their standout players. He has really come to the fore and he has played some good football under Roberto. His style suits the way they play.
"Then again, they like to go forward and attack, so we have to get them defending and get them into areas they don't want to go in. It's a good test for the widemen who start on the day."