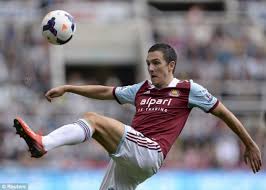 Stewart Downing has re-opened his attack on Liverpool boss Brendan Rodgers dubbing him " a poor manager"
Speaking to the Daily Mail, he said: "He (Rodgers) was the one manager I had problems with.
'I found it very difficult and the way it was handled – to come out in the papers and basically slag off your player by saying you don't try – that was poor really.
"If it's a one-one-one conversation and he wants to grill me, I can take that. But when it's open like that; I don't understand why some managers do it.
"You can lose the player completely. Did he do it as a gee-up? Maybe, but I didn't appreciate it,"
Downing explained: "That's why I found what happened at Liverpool difficult. That kind of thing can tarnish a player's reputation.
"If fans read that you don't try, it gives the wrong impression. I was finding it hard after the first season I'd had at Liverpool. When that came out, to say I was disappointed would be an understatement."