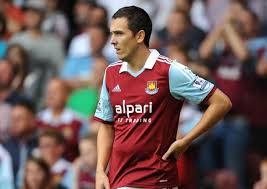 Stewart Downing appears to have  forgotten the 5-0 Forest thrashing as he remains positive for the Manchester City clash on Wednesday.
The winger recalled the league clash at Upton Park and said: "We gave Manchester City a good game at our place, especially in the second half.
"We need to go up there and play well and it is over two legs, so anything can happen.
"I went there with Liverpool when they were unbeaten at home and we beat them 1-0, then we drew 2-2 at home and got to the final, so it could be done again – who knows?"
Allardyce – despite injuries to eight first teamers looks certain to put out a far stronger team than we saw at the City Ground.
For despite claiming a couple of weeks back the Cup competitions were of little importance he said he had needed to play a much weakened team at Forest because the team were trying to reach wembley in this competition!
Downing, however, has got his priorities sorted and sais: "I think the Premier League is the most important thing, but the semi-final is there to be played and I am sure the manager will go up there and pick a strong team.
"If we can win it, it breeds confidence. It is any win from any game that is what we need at the minute to get our confidence back.
The former England man was made captain for the day at Forest and did his best ton hold on to positives.
He said: "Sam gave me the armban and I was over the moon about it, but it just would have been nice if we had got a result to go with it.
"I think for 60 minutes we did quite well, especially after going 1-0 down. In the second half we had them pinned a little bit, if we had got a goal then it might have been a very different game.
"But obviously with the young lads in the team, they wanted to push on and get goals and they punished us in the end. "I think 5-0 is a little but harsh though."
Downing has been frustrated by injury troubles but this season but said:"I am fully fit. It was quite strange because I have always been fit, but I had a gash which was quite hard to put a boot over and run with.
"It has been frustrating. I've had two niggly injuries, but hopefully I can now stay fit and we can get some of the other players back and get out of the situation that we find ourselves in.