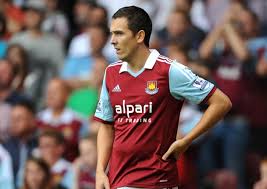 Stewart Downing is entirely confident the Hammers can make life hell for Manchester United this evening!
And he reckons that it will take at least two seasons for the champions to be back to their best.
The winger – speaking at an event for West Ham United Football for All Schools Scheme said: "We don't fear them. We are looking forward to the game. It was always going to be difficult for them with a new manager coming in with new ideas."
"Everyone will say this is a good time to play them because of the way their season has gone and the result against Liverpool.
"I didn't expect them to be where they are and I thought they would be challenging.
"They have still got quality and if they win all their games they will be back in the frame.
"But I think it will take them a couple of seasons to get back to where they want to be."
West Ham are only six points off the bottom three and Downing, 29, said: "We need points on the board because we are not in the clear yet.
"If we can get a win against United it will move us closer to safety.
"But they have got a strong starting line-up. Wayne Rooney, Danny Welbeck and Juan Mata are all top players and we cannot expect an easy game.
"But I am confident with our crowd behind us we can beat anyone."
Downing knows all about the intensity of life at clubs where expectancy levels are incredibly high as a  part of the Liverpool squad criticised after failing to challenge for a top-four place in 2011-12.
He said:  "It is intense and fans in the local area ask questions all the time. They are not used to failure and want success and it can be difficult.
"I played for Kenny Dalglish who took the pressure off the players. It is the same with Sam Allardyce, the manager here.
"We have had injuries and suspensions but we have not done as well as we could and he has handled that very well."
But he's thrilled to have Andy Carroll in the side saying:  "It is great for me to have Andy back. It was one of the big pluses for me coming here. We have missed him."