By Max Willow
Amidst all the drama and uncertainty we now face the harsh reality of  two games that will surely decide  Slaven Bilic's fate.
If we have any hope of beating Spurs tomorrrow evening , several important aspects of our play require drastic and urgent revision.
The first relates to consolidating a formation with solidity in midfield and scoring potential in attack.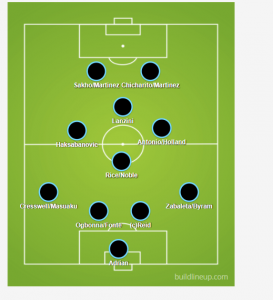 I have suggested the use of the 4-4-2 (diamond) formation . While some pundits view this formation as being a little 'old-hat', it has the advantages of being easy for all players to embrace, and if used correctly, it is very balanced.
 In recent games, some of our U-23's have been in sparkling form, and for this reason, I believe they deserve their chances for a call-up into the first team. Tony Martinez has been scoring regularly, and could be considered for some playing time up-front, particularly if there are still doubts concerning the recurrence of Diafra Sakho's back injury.
Martinez is strong with both feet and could be a real surprise packet for the Spurs defence whilst Haskabanovic and Holland are both fast, and like Martinez, can play off either foot. In the diamond midfield structure, they could play in central midfield positions ('narrow diamond'), or alternatively, play out wide, in a more offensive mode.
Either way, they would be required to move regularly between the central and wider channels to prevent a central hole from emerging between Lanzini (CAM) and Declan Rice/Mark Noble (CDM) in the defensive midfield position.
Adrian will be expected to be restored and the back four would allow for the inclusion of overlapping left and right backs, respectively.
If we are to compete in any meaningful way, the first 15 minutes are of critical importance. During this period, we must attempt to grab the initiative, with fast diagonal passing, and meaningful running into open positions-pass, pass, and dominate!
Starting West Ham Line-Up (Subs-included); Adrian; Cresswell/Masuaku, Ogbonna/Fonte, Reid, Zabaleta/Byram; Rice/Noble, Haksabanovic, Lanzini, Antonio/Holland; Sakho/Martinez, Chicharito/Martinez.