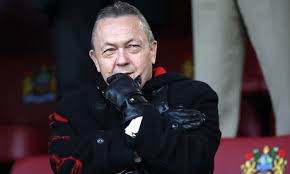 Irons co-owner David Sullivan has admitted he would never have spent a club record £15 million on Andy Carroll had he known the striker would be out so long through injury.
In an entirely frank  interview with the BBC's Football Focus Sullivan he says:  "Had we known he would be out for this long, we would not have signed him
"We are not a rich enough club to deal with that. You know any player can get injured, but we can't buy a player knowing he is going to be out for half the season.
"When we signed him we were assured by the medical staff that the very, very latest he would be back was 1 September. That would have meant he would only miss two league games."
Sullivan remains hopeful that the England international will come good adding: If you ask me the same question at the end of the season, I hope I will be able give you a different answer and say 'Yes, it was the right decision to sign Andy Carroll'.
"He is a fantastic player and on his day he is unplayable. We love him and that is why we signed him. He is desperate to come back; he is sweating blood in training."
He revEaled that while AC had been undergoing treatment he had "begged me to come home."
He said: "He has rung me up and said 'It is doing my head in being here, I really want to get back as soon as possible, I really want to play'.
"Even now we haven't got a date that he could be back. He could be back in three weeks, he could be back in six or eight weeks. I hope he might make a contribution in the next three or four weeks, that might be 20 minutes as a sub.
"He is not going to be quite the player he was at the end of last season until he has played some games.
"He is a fantastic player, don't get me wrong, but I only wouldn't have signed him because I can't have that amount of wages and that amount of transfer fee on a player who isn't going to play a minimum 20 or 30 games a season, hopefully 38 games a season."
Watch the interview with David Sullivan on BBC Sport's Football Focus from 12:00 GMT on Saturday, 14 October.