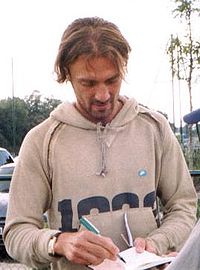 Patrice Evra's performance at Liverpool has taken a hammering from former France international Christophe Dugarry.
The former Marseilles, Bordeaux and Barcelona striker now has his own radio show on RMC Sport and invited Frank Lebouef and Emmanuel Petit to join him.
Dugarry – who also played 30 games for Birmingham City for a mere six goals – was in no moods to mince his words on the former Manchester Unite defender's performance and mixed sharp sarcasm with high criticism as his Hammers debut at Anfeld.
He declared: "He was good that game, no? He lost 19 balls, late for everything. I found him very good. Well, I found him at his standard.
It's got nothing to do with him. I'm just looking at what he does on the pitch. Even if I don't like the player or the man himself, I'm just looking at what goes on on the pitch."