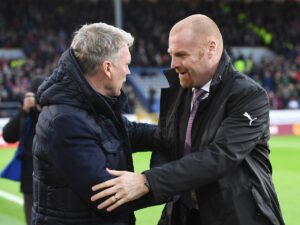 There is an unwritten rule in the Premier League that no manager can suffer six straight defeats in a row and survive. With three straight defeats in the Premier League against  Arsenal, Wolves, Spurs Moyes has Chelsea, Newcastle and Burnley to stop the rot.
The board desperately want Moyes to turn things around and get vital points on the board but there will be limits and six straight defeats would most likely cross that line.
Insiders have indicated that they would stick by Moyes even if relegated but strings would be attached to that continuation and six back to back defeats would leave his future in serious doubt.
Meanwhile, it has been reported that Sean  Dyche could be available this summer after allegedly falling out with his Burnley chairman.
The board are known big admirers of Dyche with Karren Brady often praising him in her Sun column.
The Daily Mail claim Dyche is considering leaving Burnley at the end of the season due to the deterioration in his relationship with chairman Mike Garlick, which other senior figures at the club fear is fractured beyond repair.  The Burnley manager has been frustrated by the club's failure to agree contract extensions for several senior players this summer,  and become further disillusioned in recent days after being told there will be little money for new signings when the transfer window opens next month.
Dyche has two years left on his contract – which if completed would see him spend almost 10 years at the club – but he could walk away prematurely the tabloid says.
While the board are currently backing Moyes 100%, Dyche could quickly become a plan B if Moyes fails to turn the hammers fortunes around.