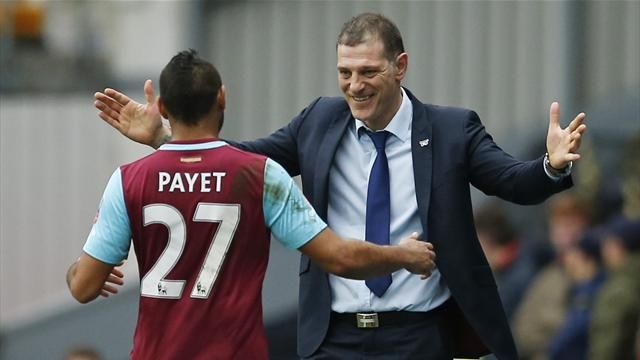 France 2 Albania 0
Dyanamic Dimi was at it again and you just knew the Irons genius was gonna have the last word in a game that had seen France struggle against a dour and well organised underdogs.
France had broken the deadlock a couple of minues from the end but the ball fell to our man in injury time and with all the grace in the world he cut inside past two struggling defenders to rifle home a blinding right foot shot.
Cut to the ITV studio where Slav rises from his chair kneels on the desk and lift s his arms to the heavens – FUNNY!
All the words have been used up -Dimi Payet…superstar of  West Ham United, France and the world!
As the ball hit the back of the net, he wheeed away, leapt two footed at the corner flag, slapped his hand over his heart and roared his delight to the heavens.
His club manager was left to explain and Slav said: "Once he cut inside it was ony going in one place. I see him do that every day in training. He always has a plan."
At the end of the broadcast Slav was once again at the centre of everybody's attention.  West Ham are setting the pace on the pitch through Dimi and off it the gaffer is picking up the plaudits as the best pundit seen in years.
COYI