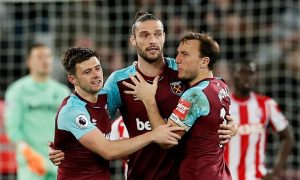 Aaron Cresswell may just have been a tad over-excited in his assessment of Andy Carroll.
Normally I have no problem with players becoming as enthusiastic as they like over a team-mate's performance but it always seems to end one way when the name is Carroll.
Here we go again – he's a weapon, he's different and with the World Cup coming "lets see what happens in a couple of weeks time."
The full text reads: " "I'm delighted for him because no-one wants to be injured but he scored within five minutes of coming back.
"His hold-up player was excellent. We've had a few injuries over the course of the season but when you have Chica (Javier Hernandez) and (Manuel) Lanzini running off him, it's unplayable.
"Would he be a good weapon for England to have? Of course. He's something different. Let's see what happens after a couple of weeks."
Let's get this straight…he came on as a late sub and did really well but England? REALLY? …not that it would make much difference to the outcome anyway which will probably be quarter finals at the very best again.
Come on Aaron ease up! This is just nonsense.