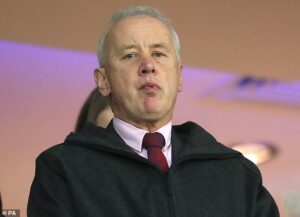 EFL players have been told by their clubs to prepare for a mid-May return to training, with a view to the season resuming before the end of June.
The EFL's plan was outlined in a leaked letter to clubs by chairman Rick Parry. The aim is to finish the season in 56 days in the middle of the summer with games probably being played behind closed doors. The 2020-21 season would then start almost immediately.
Football League clubs have been advised to give their players time off now in advance of the proposed resumption.
EFL chairman Rick Parry wrote to every club to advise them on training, holidays and more
The letter advises no training with players until 16 May at the earliest,  estimates they'll need approx 56 days to complete season, that they still "remain hopeful" of conclusion in the summer months and the assumption that all matches will be behind closed doors.
But some clubs intend to send legal letters to their players in the coming days warning them that they leave the UK at their own risk.