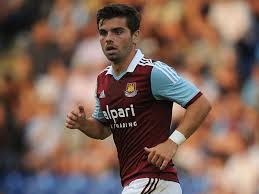 Elliot Lee has signed a new two and a half year deal with West Ham.
There has been huge uncertainty over the player's future for weeks but the young striker has now agreed new terms with the club.
And after putting pen to paper Elliott said: "I'm really pleased. It has been in the balance for quite a while now and I'm happy we've got it all sorted and I'm looking forward to the future.
"There was a friendly [against Leyton Orient] and unfortunately I've torn a ligament in my ankle which probably puts me out for the remainder of the season.
"It's going to take about eight weeks until it's back to normal, but I'm looking at the positives. I'll be back fitter and stronger for pre-season and will hopefully push on from there.
"I was on a downer missing the end of the season but signing a new contract puts me up again and I'm looking forward to next season and hopefully there are good things to look forward to."