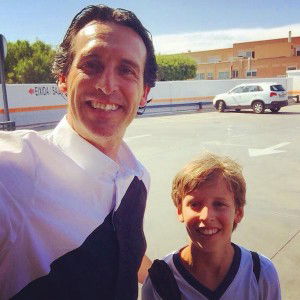 West Ham managerial target Unai Emery was filmed returning to Seville on Thursday night. Spanish media claim he will meet with officials of Sevilla today to agree a new contract. The Spanish paper claims he landed in San Pablo airport at 10.30pm local time last night after returning from Valencia, where he spent a few days with his son Lander.
His 12 year old son is a goal keeper for the Valencia youth academy and earlier this week he posted a photo of himself watching his son Lander play football.
According to one report in Spanish media, Sevilla have offered the in the demand coach £1.7m per year to remain with them with Napoli offering him an improved £2.5m per year while West Ham are rumoured to have offered him a huge package worth up to £4.3m per year with bonuses to tempt him to the Premier League. If true it appears that money doesn't always do the talking.