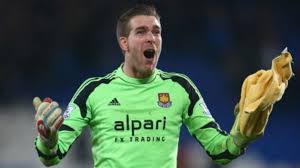 Adrian will relive an emotional memory when he makes an anticipated appearance against Malag later today.
Speaking to the official site www.whufc.com he explained: "It is a special game for me because I made my debut in Spain against Malaga.
"I came on as a substitute because our goalkeeper was sent-off in the 13th minute. Although we lost, it was my debut so it will always be a special memory for me."
The stopper believes that the Irons will have to improve on yesterday's display against Schalke which saw us win 7-6 on penalties at the end of a 0-0 draw.
He said:" "It's like a final for us. It's an important game for us and for the West Ham fans, who were unbelievable again on Saturday.
"We need to improve a little bit on how we played on Saturday and hopefully we can win the Schalke 04 Cup!"
And he agreed the Spanish outfit had played very well against Newcastle in beating them 3-1 saying: " They keep the ball very, very well. Sunday is going to be a hard game for us.
THE MATCH CAN BE SEEN ON QUEST TV  (KICK OFF 2.30 BST)
Quest can be found on Freeview 37 (+138) Sky 167 (+1 195) and Virgin Media 172 (+1 173).