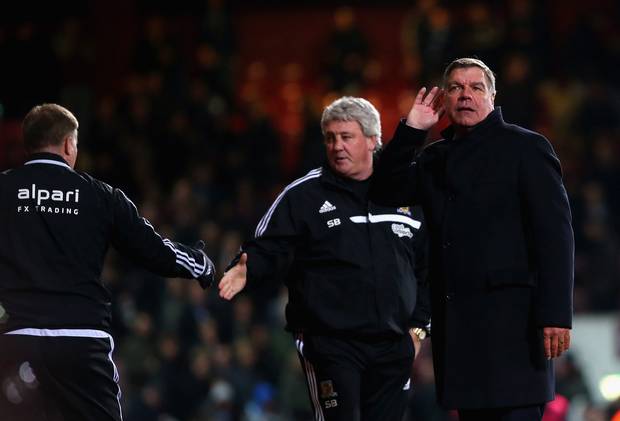 Nearly 24 hours on there remains gloom and uncertainty throughout the Irons fan base which quite frankly has taken enough and then some!
Here at ClaretandHugh we are great fans of our owners and make no apology to anybody for that but it has to be said: "They have got it wrong over the Sam Allardyce issue."
Words such as "heartbreaking" don't come easily off this keyboard but having read many remarks across our various forums and social media outlets, it really is the only one we can find this afternoon.
Yes, there has been a war going on between the pro and anti Sam lobbies for far too long but it's gone much deeper of late with some claiming they have, or are close to, falling out of love with the club
Here are just three comments:
 I feel your pain. If he stays I won't return. He (Sam Allardyce) has  killed it for me too.
O I'm sick of it. Just read some guy on another site digging out the fans for not staying to applaud the players on their lap of honour because the players deserved better treatment.I felt like going mad & commenting but gave it a swerve.
O My 15 year old is wondering why he bothers watching the games! It's got to change or we will lose fans! We don't want to become a club where we just look out for the results and cba anymore. I hope the Daves saw the lack of folk cheering on "our heroes" at the end – which was something of pride in the past. Not any more. Get out BFS we don't want you or your nonsense anymore.
Others have spoken of a lack of interest and love in the club  which was once at the centre of their lives as a result of the manager's tactics and attitudes over the past two years.
Once upon a time the last day of the season was an event …getting on the pitch and celebrating was one of the most looked-forward to events of the season but not yesterday – nobody could get away fast enough.
Wander around the Black Lion yesterday post-match and former pro- Allardyce and long time opponents were becoming increasingly united in the view that the managerial issue had ripped the heart out us.
The great good humour for which we have always been noted has been absent for months. Being a Hammer is no fun anymore and it's down to Sam Allardyce. He has indeed  ripped the heart out of us.
The Davids can end this. They can reunite us now – we can start laughing again if only the magical words were to escape their  lips: "Sam Allardyce will no longer be manager of this club next season."
Just say it Davids…just say it and let's play our last game of the season at an entirely fitting venue – the place from which Allardyce was sacked just over seven years ago.
It would be a sweet IRON…ry.
My choice of photo is entirely deliberate. It's how I will always remember what this man thinks of West Ham United's mighty fans.