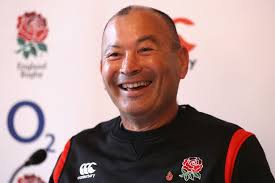 England rugby boss Eddoe Jones has declared his love of the Hammers.
He grew up supporting the team and revealed his love of the club in a meeting with English football legend Stuart Pearce after David Moyes' Number Two watched the Six Nations champions train this week.
Jones said: "I told him I used to be a West Ham supporter."I used to love Billy Bonds, Trevor Brooking, Frank Lampard – and that claret and light blue jersey.
"They had those big tough defenders and Brooking was the artist at the front."
Asked what he admired about Sir Trev he Jones replied: "He always reminded me of (Australia cricketer) Greg Chappell playing football."
And hedeclared: "It was interesting talking about how David Moyes is trying to revive West Ham now."
Now we all have an added incentive – if any were needed – to see the England boys turnover the Scots tomorrow  Scots although Moysie may not be too impressed.