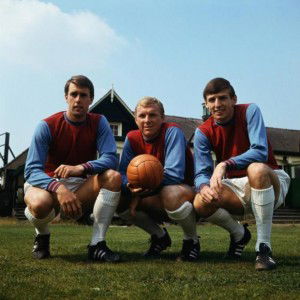 By Hugh Southon
"So what do you think of it so far?"  as a famous old comic used to say!
The World Cup should be a real feast for us Hammers who were starved of the sort of stuff we all want to see week in week out.
And last night's amazing game between the Spanish and Dutch was as good as it gets – it needed to be after the first night
A classic piece of cheating from Brazilian striker Fred – which immediately cast a shadow over the greatest football show on earth – saw a degree of despair set in as far as I was concerned.
Brazil didn't impress me and I'm afraid one name – Neymar's – was mentioned far too frequently for me to believe this is some sort of super team..they certainly don't stand alongside many from their past.
Don't fancy them as winners!
Holland, however, put the bad Brazilian game of Fred deception to bed with one of the finest displays ever seen in a World Cup surely.
And Manchester United fans will no doubt be over thekmoon that this is the team being managed by their boss in waiting Louis van Gaal.
Spanish boss Vincente Del Bosque had no explanation for Spain's performance – neither has anyone else but the Dutch were entirely amazing.
And those who have rushed off to bet on anyone but them to win outright will presumably be going back for a saver on Van Gaal's storm troopers.
So we come to this evening little affair in the jungle between the English and the Italians. Many have been claiming this is not a great Italian team – they may be right but their qualifying results aren't bad at all.
It's when they play friendlies that a couldn't care less attitude appears to set in so let's  be cautious of under-estimating them.
If Roy Hodgson plays Ross Barkley there is hope but I'm still not certain he will – Barkley is special and will be badly needed against a team that usually produces one of the tightest defensive formations in World football.
We have a mix of Lampard, Gerrrard and Rooney- who have a history of coming to World Cups seeing World Cups and failing at World Cups- and some of the young and hopeful.?
Is that enough?  We'll soon find out.  As for tonight's game I'll be having a hopeful bet on the draw – 1-1 but as I say that's HOPEFUL rather than confident!
You see the real problem is that for England to win a World Cup you need three Irons and we don't have one!