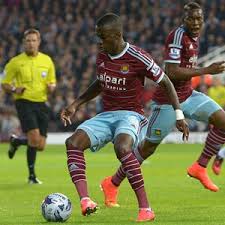 Enner Valencia reckons there's a touch of the South American fans about the Irons supporters.
The Ecuador international has revealed that he feels a natural affinity to West Ham United declaring: "The fans are always spectacular.
"They are always supporting. You are away from home and you feel abut s though you are at home and for a player that is really good.
"The supporters in South America sing a lot more," he told The Independent "but the West Ham fans are a bit South American."
In an interview covering his time in the game he claime he wanted to sign med he didn't expect to become a footballer saying: "I was from a small town. Then one day a director from a club in the east of the country came and saw me play. I was 15
Having signed, he said: "It cost a lot. I cried every day. My first two months were so hard but all the effort was worth it in the end."
Going back home is very important to him and he said: "So many important things have happened; winning the title in Ecuador, going to Mexico where they play different football and the Premier League – the most important league in the world."