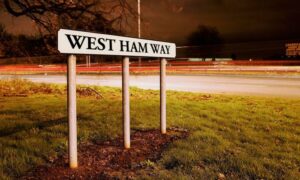 We shouldn't be surprised that we crumbled against an out of form Everton yesterday, it is the West Ham way after all!
Everton had been defeated four times in a row and in a relegation spot in 18th place in the table while the manager under the pressure and facing the sack.
On paper, it was a great time to play them to repeat last season away win but we know it doesn't work like that at West Ham.
We had a chance again to go fourth in the Premier League table but bottled it and we have moved down two places to tenth in the table.
We did the same two weeks ago against Crystal Palace,  we played a team who hadn't won away from home for months and seemed low in confidence so of course we rolled over and let them tickle our tummy and have the away win.
The more the statistics seem to be stacked in our favor the more we seem to do our best to prove everyone wrong.
The West Ham way as we know is about building up your hopes and aspirations for the season and certain games then knocking them down, thus it was ever so.  Nothing changes.