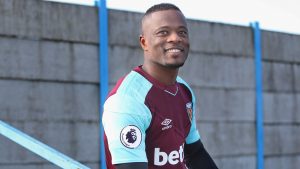 Honest Patrice Evra – in his first in depth interview – has made it clear that words for the camera are all well and good but that the hard part comes when he pulls on the Hammers shirt for match action.
And thankfully he veered around claiming to be 100 per cent fit and ready to go saying instead: "Let's see how it goes."
In an interview with the official site he said: "I'm excited, but a lot of people talk about the past and the most important thing is the present. The Patrice Evra of Man United is done. Now is a new challenge, which is the Patrice Evra playing for West Ham.
"I am proud and I'd like to say thanks to the fans, but the easiest part is to say it on camera, while the hard part is to give 100 per cent of myself, every time I wear the shirt here, because I respect the people who got me here and it's very important for me to give my best to the Club."
"I am someone who lives in the present. I have been straight with the manager, so let's see how I feel. Today was a very good day and after tomorrow we will see.
"I am someone who doesn't like to lie, so if I don't feel good I will say to the manager 'I don't feel good' but for the moment I am in good shape, so let's keep working hard."
"I will bring my winning mentality in every game! Even in training and in the gym, in everything you do, you have to have that winning mentality.
"When you win one game, you must always think about the next one, so that's what I will bring here. For me, winning is something normal.
"I will do my best to bring to my teammates that mentality and they already have it, because when you are a professional football you should have it.
"For the first time in my life, I've been without a club for three months, which showed me how lucky I was, so that's why, when I woke up today, I had the biggest smile on my face. I couldn't believe it.